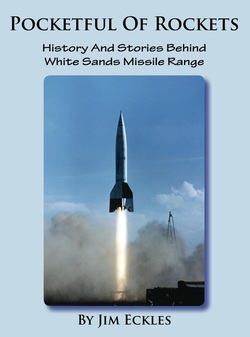 If you ever worked at White Sands Missile Range in New Mexico, had an interest in the history of the range to include Trinity Site - this is the book for you. Written by retired White Sands Public Affairs Specialist Jim Eckles, the book is a delight to read - Jim is a "real" story teller - the kind that keeps you captivated and wanting more. All the information is below - would make a great Christmas gift but you'll find that you'll read it yourself History has never been so enjoyable….

Promotional Description --- Pocketful Of Rockets: History And Stories Behind
White Sands Missile Range by Jim Eckles



Pocketful Of Rockets is an informative and entertaining survey of the
history of White Sands Missile Range. This is a rare look under the covers
at the largest military installation in America by someone who worked in the
Range's Public Affairs Office for 30 years. The author looks at V-2 rockets
gone astray, the search for 100 tons of gold at Victorio Peak, how the first
atomic bomb at Trinity Site changed the world instantly, the mountain lions
and bighorn sheep roaming the Range, the Apache/Buffalo Soldier battlefield
from 1880, and how the aliens figure into it all.

Eckles has gone out of his way to chronicle two periods - what happened in
the 3,200-square-mile region before 1942 and what happened once the military
moved in. The stories he ties into the history provide extra insight that
brings many of the events and characters to life. Never before has so much
history and so many stories about White Sands been brought together in one
volume.

The book is available internationally online at Amazon Books. Locally it
can be found in Las Cruces at Coas Bookstores and the Mesilla Book Center.
In Alamogordo it is available at the Space Museum and the Tularosa Basin
Museum. At White Sands Missile Range it sells at the Museum Gift Shop.
The book retails for $25.