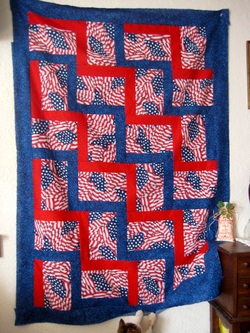 I've mentioned the Bataan Memorial Death March before and I suppose by now you can tell that it is near and dear to my heart. I have challenged myself to complete 20 lap quilts before the event on March 23rd this year. I have five tops done!

Imagine my delight and surprise when I got an email from local quilter Nancy Elkins telling me that she had made two quilts for my cause AND two of her friends have also committed to make a quilt each. I am always overwhelmed by the generosity of quilters world wide. Thank you Nancy!

I wanted all the quilts to be patriotic and have chosen flag themed fabric for the center with red and blue. I selected the rail fence pattern (Eleanor Burns, Quilt in a Day method) for its simplicity and quick construction method.

Ran out of flag fabric so I'll start quilting the five finished tops today and proceed with the piecing when I find more flags.

Please note the bottom of the top in the photo - my buddy Emma is helping me hang the top. Guess I should've started a couple months ago but I really wouldn't know what to do if I weren't racing against time.

Are you a procrastinator or do you have projects completed well ahead of schedule??