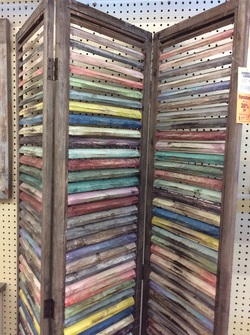 Happy little room divider I found at Hobby Lobby. Would really like to take it home but I have a problem - promised myself I'd toss three things for every new purchase I bring home. What do I toss?

Does your fabric procreate in the closet when the door is closed? I don't know how I can use fabric and use fabric and the stash never gets smaller.

How do you handle the accumulation of quilting and crafting "stuff". You know if you toss it or give it away you'll need it...
Do you go cold turkey? Give to a thrift shop only to see it is still there a few weeks later and buy it back? It was an accident I swear.

I need a fabric/craft (fill in the blank) twelve-step [rpogram.