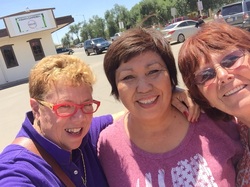 What a busy busy year its been. Haven't even posted to the blog or update the web page since February -Biggest reason was my internet connection - terrible!!!! All fixed now and I can get back to it.

Photo taken with buddies Pam and Eiko this summer. Yes Pam and I did our annual Thelma and Louise trip although it was a short one. A few days in Santa Fe and we were relaxed and re-engergized... More later.

So excited to have a good internet again. Lots of changes on the horizon and more to come. Right now getting ready for Houston..... Yippee!