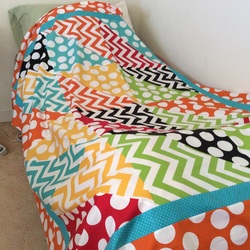 I am not a fan of football - probably because I don't understand the rules - basketball is my game. This year, even the commercials were disappointing from my point of view.

So after making sure everyone has plenty of snacks to eat I get to play. A great way to spend Super Bowl Sunday. Bought this bright and happy quilt fabric a couple weeks ago at the Albuquerque AQS show.

Fabrics were purchased from Hearts to Holly Quilt Shop - www.heartstoholly.com - from Charlevoix, MI. Lots of super quick quilt patterns and kits already put together for you - cut and sew - I enjoyed the process... Granddaughter will be the happy recipient.
Are you a die-hard football fan or do you also spend the day playing.....