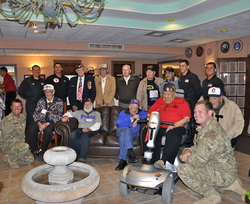 The 25th Annual Bataan Memorial Death March will be held at White Sands Missile Range on March 23rd. What began as a community project by a New Mexico State ROTC cadet has grown from a little over 100 participants to almost 7000 in 2013.
In 1942, thousands of American and Filipino Soldiers were surrendered to the Japanese. Already weak and sick they were ordered to march over 65 miles as prisoners of war - thousands died. Do a web search for Bataan Death March and learn more about this horrific time in history.
The march is an opportunity to touch history as survivors tell their story, line up at the starting line, and wait at the finish line to thank you for participating. A hugely patriotic event you will leave it appreciating the sacrifices of these heroes and the military serving today in places around the world.
Registration opened with fees scheduled to increase at midnight on December 31. Go to www.bataanmarch.com for more information and instructions of how to register for the honorary route of 14.2 miles or the full marathon length route of 26.2 miles. Registration is open to teams and individuals of all ages.